Join Our Telegram channel to stay up to date on breaking news coverage
As per some reports, gamers are more inclined towards those games where their time, energy, and resources can be monetized. That is why play-to-earn (P2E) games have facilitated a shift from Web 2.0 to Web 3.0 for gamers all across the globe.
The fact that blockchain technology offers an extremely safe, transparent, and decentralized environment for online gamers is the reason behind the increasing popularity of Web 3.0. With the introduction of the Web3 era, users are able to make money by playing video games and purchasing products from the metaverse with their own money.
Nowadays, players are selling their items within the game or outside of the gaming world. Read ahead as we discuss the existing transition of gaming brands from Web2 to Web3.
What is Web3 gaming?
Recently, Web3 games have been in vogue in the gaming world. Web3 games are online video games that leverage blockchain technology as the foundation of their economy.
To put it differently, the game's assets that the players control will take the form of Non-Fungible Tokens ("NFTs"). Contrary to traditional Free-To-Play (Freemium) game economies, which have typically existed within a closed ecosystem and prevented players from exchanging in-game products for real-world value, participants in play-to-earn web3 game economies control in-game assets.
RobotEra – One of the Most Anticipated Web 3 Games
Put simply, this enables players in the decentralized web3 game environment to have total ownership of their assets. In this, one of the key features is also the incorporation of blockchain technology. Early Web3 gaming examples like Axie Infinity have shown tremendous uptake and crazily high retention rates due to the integration of blockchain infrastructure. In fact, one of the most actively funded segments of the gaming industry, at the moment, is web3 games.
Visit RobotEra Official Website
Rise of Web3
In the year 2014, it was the co-founder of Ethereum, Gavin Wood, who came up with the term called Web 3.0 (which is now popularly known as Web3). To trace its evolution from Web 1.0 to Web 3.0, we can see that originally Static web pages and open-source software were the foundation of Web 1.0, which existed between 1991 and 2004.
These websites did not have the best features because the focus was merely on replicating the real world. Instead of coming from the database, the data and content were coming from a static file system. For this reason, the web pages only offered a limited amount of interactivity to the users. Majorly slow internet connections and untested browsers were to blame for a major chunk of these limitations.
Then came the existing Web 2.0, which is based on the interactive read-write web where it is not necessary to be a developer in order to participate in the content creation process.
One of the defining features of Web 2.0 is the dominance of a small number of tech giants (For instance – Google, Apple, or Facebook), who have amassed enormous wealth and significant power. In order for these platforms, especially social media platforms, to generate revenue, their user bases must create the content, yet individuals who do so rarely receive a reward.
In contrast to this out-modelled concept, Web3 contains a brand-new phase of the internet that relies on decentralized resources. In a way, Web3 tries to decentralize Web 2.0 based on the infrastructure supported by blockchain.
The best thing about Web3 is that it distributes the power amongst its users as compared to high power concentration in the pocket of tech giants. The gaming world is going to experience a new era with the introduction of blockchain technology coupled with decentralization.
Web3 is now being conceptualized and developed by many top companies, with Ethereum standing out in terms of early user acceptance. Dappradar has fully changed the single dapp page for a better user experience in exploring projects in the Web3 space. It is true that the fundamental structure of Web3 is yet to be worked out. However, its decentralized nature is a crucial aspect of its intended design.
There are several existing as well as upcoming Web 3.0 games such as RobotEra, Calvaria, Tamadoge that users can play and earn good monetary returns from.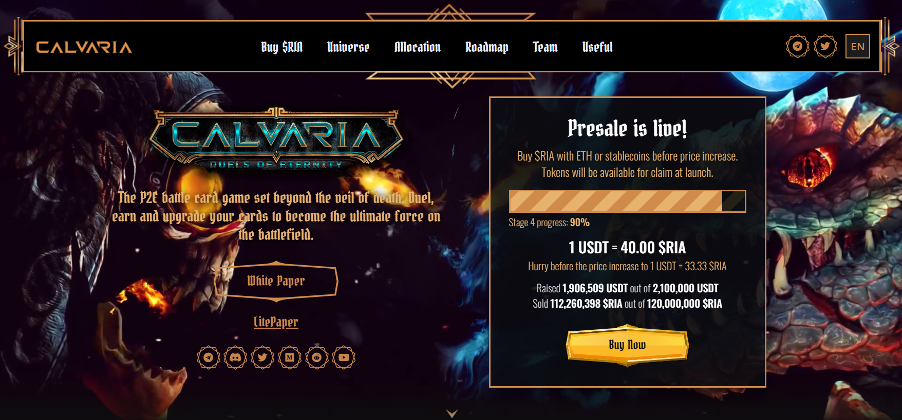 Visit Calvaria Official Website
Reasons Behind the Popularity of Web3 Gaming
There are multiple reasons behind the transition of gaming brands from Web 2 to Web3. Given below, we have discussed some of the reasons behind the popularity of Web3 gaming:
Ownership Of In-Game Assets and Digital Paucity
In-app purchases are found in almost every game today, and these purchases provide a major source of revenue for gaming companies. These in-game items are often sold to users with the help of IAPs and have a limitless quantity of copies. In Web2 gaming, players do not own these in-app purchases even after purchasing these assets.
This is where Web3 comes into play by providing ownership of assets to the players by linking the asset with the player rather than the game. This entire process happens because of blockchain technology, where each asset is available in a limited quantity. The digital assets owned by players can easily be sold to any individual, both inside and outside of the gaming world.
Interoperability
Another limitation that Web2 has is a lack of interoperability. Gaming networks have always been segmented, with the limited scope of any cross-play across games. In the conventional gaming setup of Web2, resources of one game cannot be used in the other game.
However, the projects' blockchain ecosystem supports one another and easily allows the players to use the resources of other games. The DeFi sphere also shares similar characteristics. Here, players are able to take and use their digital assets in other games, like NFTs, weapons, and other tools.
The Era of P2E Games
Web2 games allow a handful of opportunities for earning while playing games, which is why their trend is on the diminishing side these days. Perhaps, this is the reason why many players engage in live streaming of their games so that they can make money out of their gaming skills.
All these limitations come to an end when players switch to the model of Web3 gaming, where users can easily monetize their gaming skills and make good money while playing games that are built on blockchain technology.
Other Features
Web 3.0 games offer a further edge over Web 2.0 games in that they are open source, allowing players to customize the experience to meet their specific requirements.
Single-point errors are frequent in traditional online games, but blockchain technology improves this gaming experience by providing players with steady and exciting alternatives. Since players are solely responsible for the games' performance, their skills will finally determine how valuable the games are.
Conclusion
The future of gaming is getting ready to change as a community-driven environment supported by a just and equal component of technology emerges. There was a time when users used to show their interest in Web2 fantasy sports leagues, and now, youngsters are looking forward to the NFT-based fantasy sports leagues.
It is expected that the gaming industry will undergo a major change from its transition to Web3. This transition will be welcoming and will lead to the growth of the industry in the long run. Considering the positive prospects of Web3, it would be profitable if users start investing in these games during this early stage and then reap the benefits at a later point.
Related Pages:
AiDoge – New Meme to Earn Crypto

Earn Crypto For Internet Memes – $Ai Token
First Presale Stage Open Now, CertiK Audited
Generate Memes with AI Text Prompts
Staking Rewards, Voting, Creator Benefits

Join Our Telegram channel to stay up to date on breaking news coverage