Solana's DeFi activity declines, however, the NFT market shows a promising future.
Following the broader market, the SOL token faces selling pressure.
Solana's hold in the DeFi space continued to dwindle. Despite the overall market observing a recovery, Solana underperformed in the DeFi market.
Well, the fall in DeFi activity could signal an overall decline of interest in Solana's ecosystem.
---
Is your portfolio green? Check out the Solana Profit Calculator
---
Solana's DeFi(ance)
Notably, Solana's overall TVL remained flat throughout the past three months, which was a cause for concern.
The decreasing dApp activity was one of the reasons behind the same. Popular dApps like Raydium and Saber observed a fall in the number of unique active wallets on the network.
This indicated that users were not majorly engaging with Solana's DeFi applications.
Another indicator of Solana's declining DeFi activity was the decreasing number of DEX wallets on the network.
A DEX or decentralized exchange is a platform that allows users to trade cryptocurrencies without intermediaries.
Well, if this trend continues, it would become difficult for Solana to compete with other DeFi ecosystems in the market.
However, despite the declining DeFi activity, Solana's NFT growth showed promise. Compared to the DeFi space, Solana's NFT market was vibrating with users' increased interest.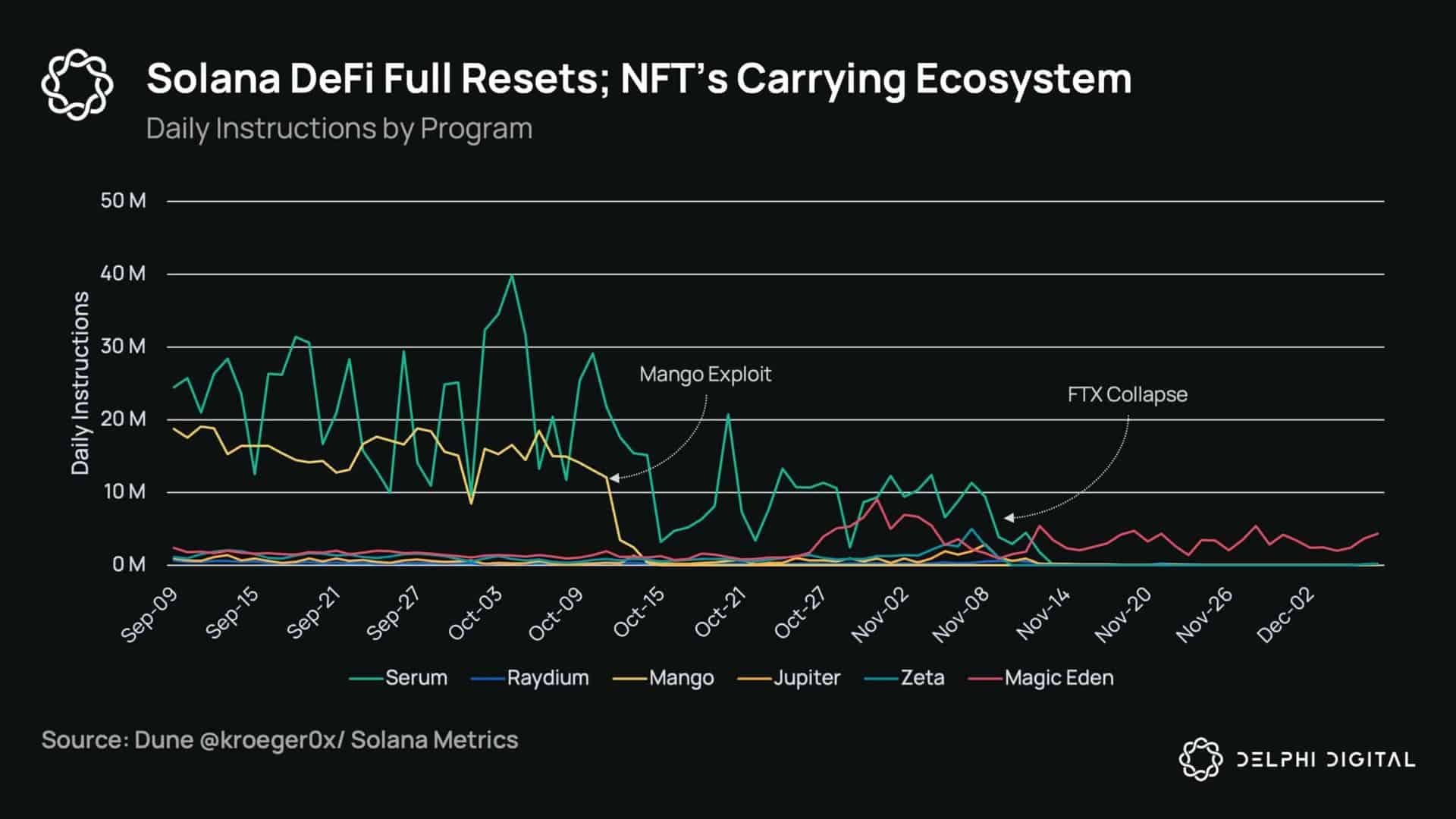 According to Delphi Digital's data, Solana's NFT market share increased from 6% to 14% over the last few months.
NFTs come to the rescue
The NFT volume remained consistent despite a fall in prices, which was a positive sign for Solana's ecosystem.
Another positive news for the ecosystem was the growing number of buyers. Interestingly, the number of buyers exceeded the number of sellers.
That said, the overall volume of SOL declined, and price volatility increased. According to Santiment's data, the overall volume of the SOL token declined from 725.53 million to 353 million in the past month.
---
Read Solana's Price Prediction 2023-2024
---
It is here to be noted that the growing volatility would de-incentivize risk-averse investors from buying the SOL token.
It is important for Solana to find a way to maintain its DeFi activity while also capitalizing on its NFT growth to ensure the long-term success of its ecosystem.