Read
CoinChapter.com
on
Google News
NEW DELHI (CoinChapter.com) — Pi Network followers continue to wait for the Pi Network open mainnet launch. Meanwhile, the platform has been busy developing its ecosystem. However, the Pi Network Coin price action remained muted after bears pared the token's gains on Mar 1.
The Pi Network developers are awaiting the implementation of a proper KYC system before launching the Pi open mainnet. In an interview, Pi Network co-founder Nicolas Kokkalis had claimed that the KYC issues are the only hindrance to the Pi Network open mainnet.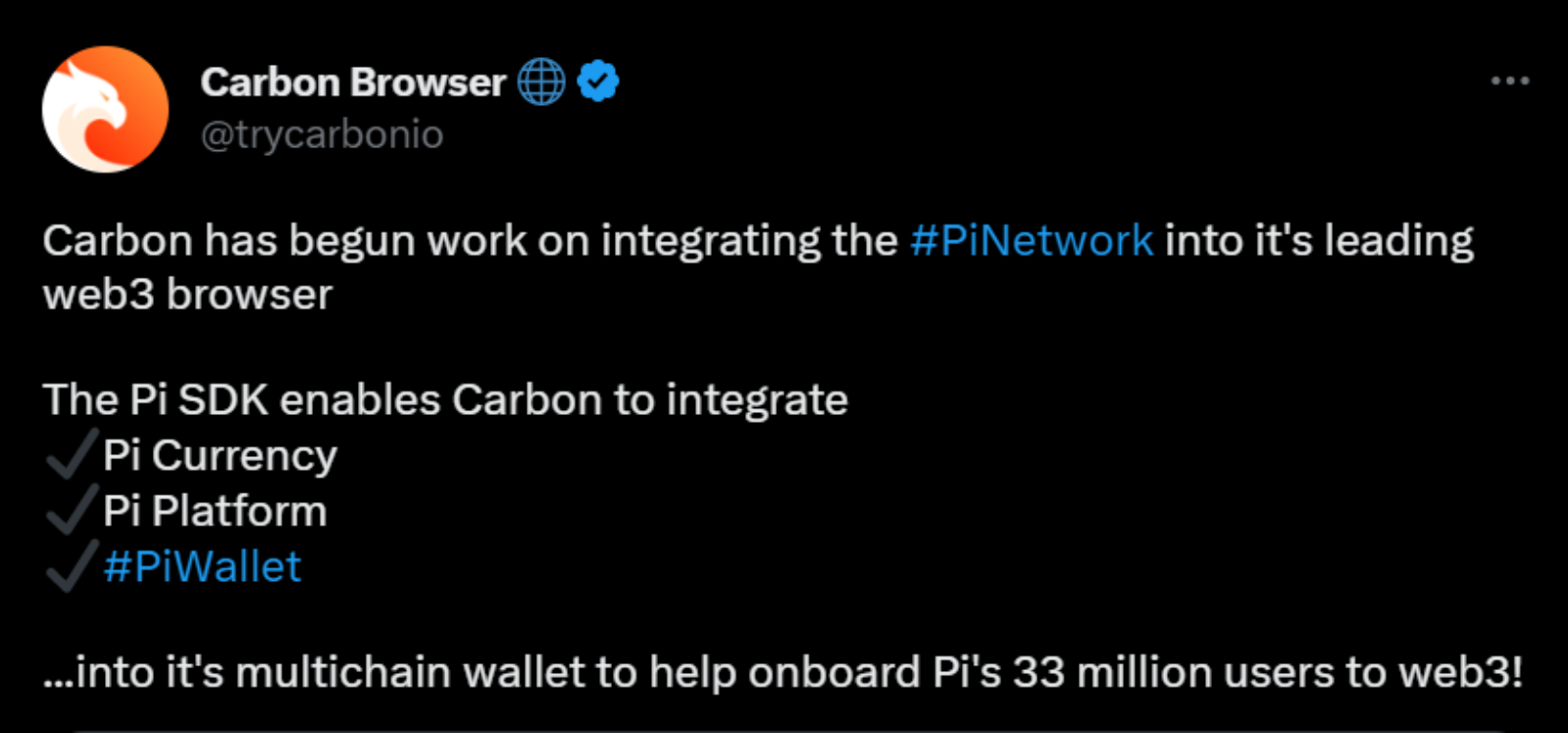 Web3 browser Carbon announced plans to integrate the Pi Network into its multichain wallet. The upgrade would help the Carbon browser to integrate Pi Currency, Pi Platform, and the Pi Wallet using the Pi SDK (Software Development Kit).
The partnership would allow Pi Network's 33 million users to access the Carbon ecosystem's features.
Additionally, the Pi Chain Mall reopened withdrawals on its platform after halting them on Feb 1, citing some updates.
In the announcement, Pi Network stated the withdrawal rules have not changed. For example, users can still withdraw 50 Pi Coin tokens daily. The platform would increase the withdrawal limit gradually, citing fund security.
Fund security is our top priority. The Pi withdrawal amount will be increased at a later stage accordingly. Our platform does not charge any platform fee at this stage.

Pi Network said
Furthermore, the Pi Network Hackathon has yielded several new projects for the platform, such freelance marketplace WorkforcePool. The project would allow Pi Network users to connect with and hire freelancers across the globe.
Also Read: Date From Hell? German Man Robbed Of $20K In BTC
On Feb 22, WorkforcePool launched its testnet beta
Pi Coin Price Faces Strong Bearish Pressure
The Pi Network Coin spiked 30% to form a daily high near $53 on Mar 1, but bears pared the token's gains. Long upper wicks on the token's recent daily candles further underscore the strong bearish pressure against Pi Coin.
On the 4-hour (4H) chart, the token's price action remained largely muted. Despite the occasional green candles, PI Coin price is down over 40% month-to-date (MTD) in Feb.
Should the bearish pressure continue, the PI coin price might drop to its 20-4H EMA (red wave) support near $44.4. Breaching the EMA support, which PI coin reclaimed on Mar 1, could push the token to test support near $41.3 before recovering.
On the other hand, if the Pi Network Open Mainnet launch is announced, it might provide the PI coin price the bullish cue needed to reach resistance near $47.3.
Moreover, a break and hold above immediate resistance would likely see the Pi Network token move above its 100-4H EMA (blue wave) to challenge resistance near $50.
Meanwhile, the relative strength index for PI coin remains neutral on the 4H chart, clocking at 52.13.
The post Pi Network Steps Up Ecosystem Development, PI Coin Spikes 30% appeared first on CoinChapter.