Read
CoinChapter.com
on
Google News
Key Takeaways:
The PEPE meme coin peaked on May 1 but lost 32% since.
A bearish setup could cost the PEPE token another 60%.
If whales sell for profit, the coin could face a bank-run-type situation.
YEREVAN (CoinChapter.com) – Pepe Meme Coin has been the talk of the town since hitting the market on April 18. PEPE/USD exchange rate rocketed over 5,000% since, and the token peaked at 0.000001489 in the European session on May 1.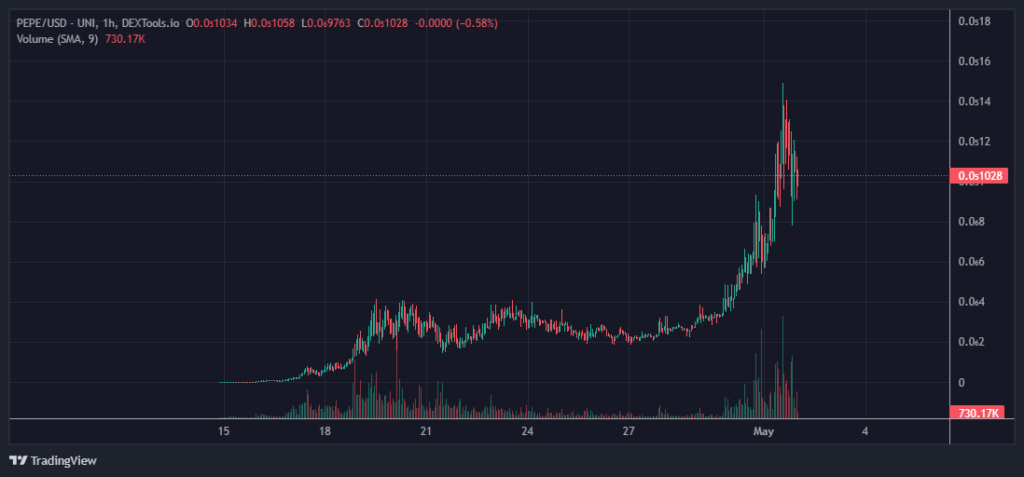 However, the PEPE coin lost 32% of its value since the peak, changing hands at $0.000001003 in the New York session, and could lose 60% more in the 48 hours.
PEPE in a descending triangle
A close look at the PEPE token chart reveals that the coin has been trading in the 'descending triangle' formation since the peak. The setup features a flat support and a descending resistance that caps an asset's upside attempts.
Typically, when a descending triangle occurs in an uptrend, it could signal a bias reversal. If the forecast is correct, the upcoming leg down would equal the triangle height, pinning the target price for the PEPE coin at 0.0000003743, or 60% lower than the current value. Moreover, the trading volumes have declined significantly in the previous hours, backing the bearish expectations.
Also read: PEPE Coin Price Rises 214% To New ATH, But Bearish Risks Remain.
Whales might sink PEPE token price.
The transaction log registered several sales of large PEPE stashes in the last hour alone.
However, according to Lookonchain, several Pepe whales have made millions in profits in the previous two weeks.
This guy bought 5.42T $PEPE with 1 $ETH($2,100), then sold 3.42T $PEPE for 929 $ETH($1.77M). And still holds 2T $PEPE($2.37M). Selling all $PEPE at the current price will make a profit of ~4.14M!

said the platform in a recent thread, describing one of the largest addresses.
The largest PEPE token whale wallet holds nearly $2.8 million worth of the Pepe meme token. As the price surged on April 30, the wallet added another batch of over 534,000 PEPE tokens to its wallet. Furthermore, the top 10 PEPE coin wallets account for over 7% of the project's total token supply.
Thus, if the whale wallets decide to unload their token holdings, the project would face a bank-run-like situation. The team behind the project would be left without any liquidity to fulfill the orders.
Also read: Frogs take over – F*ck Pepe coin FKPEPE soars 2,000%; PEPE scores a new listing.
The post Pepe Meme Coin price headed for a 60% crash – here's why appeared first on CoinChapter.