Join Our Telegram channel to stay up to date on breaking news coverage
Former Coinbase CTO, Balaji Srinivasan, has predicted that the US government will cut off access to Bitcoin in response to the ongoing "banking crisis." Srinivasan made the prediction in a recent interview on the Bankless podcast, where he also discussed the potential collapse of US fiat banks and the devaluation of the US dollar.
According to Srinivasan, a lot of US fiat banks "will go to zero," and the US government will attempt to prevent individuals from leaving the financial system. He raised concerns about whether there will be enough time for people to access the Bitcoin exit before the government closes potential exits such as Silvergate, SVB, First Republic, and Signature. Nonetheless, he remains confident that Bitcoin will have ample protection from various governments worldwide. 
He believes Bitcoin "will be protected by enough governments" around the world. Srinivasan said:
"Can enough people get to the Bitcoin exit in time before they close the exits… Because they shut down Silvergate… SVB, First Republic, Signature." 
Balaji Srinivasan $2M Dollar Bet on the Price of Bitcoin Surging to $1 Million by June
Last week, Srinivasan caused a stir in the cryptocurrency world after he placed a $1 million bet on Twitter. The former Coinbase CTO staked a million dollars on Bitcoin's price, predicting that the price would skyrocket to $1 million in 90 days. He predicted that the price of Bitcoin will hit $1 million by June 17. At the time of writing, BTC is trading at $27,380. Srinivasan took up a challenge from a Twitter user, James Medlock. Medlock challenged people to bet $1 million that the United States would not experience hyperinflation. 
Srinivasan made another bet of the same amount to a different person, totaling his wager to $2 million. He also thinks that the US dollar is about to implode into a period of hyperinflation, similar to the state of Weimar marks following the defeat of Germany in World War I. In 1923, the value of the Weimar marks deteriorated, resulting in a significant decline in value to a fraction as small as one trillionth of the US dollar.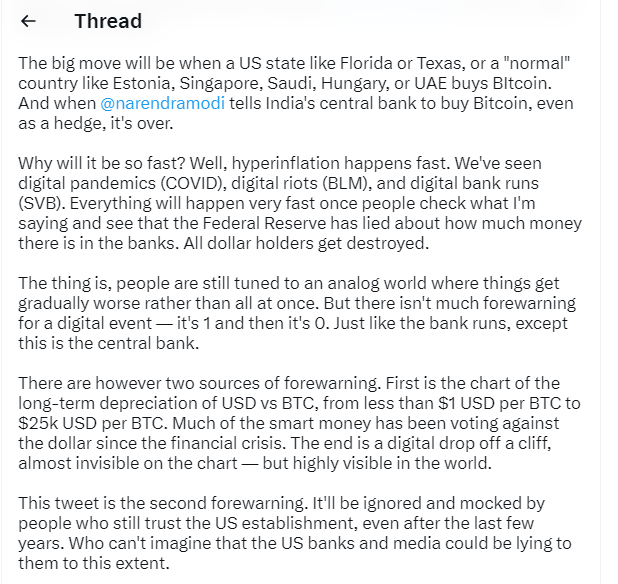 Srinivasan believes that the world will witness massive changes this year, catalyzed by the devaluation of the dollar. He said that the pace of change would feel shockingly fast, similar to the early 1900s, when technology changed everything. 
He said:
"Even for someone who was thinking about these trends, the pace of change will feel shockingly, disorientingly fast. It reminds me a bit of the early 1900s. In 1910, you still had nine royals meeting."

Balaji Srinivasan $2M Dollar Bet
Srinivasan's prediction that the US government could cut off access to Bitcoin is not without precedent. Earlier this year, the Indian government proposed a bill that would ban cryptocurrencies, with penalties for anyone dealing in digital assets. The Nigerian government also recently banned cryptocurrency trading, citing the need to protect its citizens from the risks associated with cryptocurrencies.
However, the US government has indicated no intention to cut off access to Bitcoin. In fact, some lawmakers have even proposed bills that would regulate cryptocurrencies and provide clarity for investors.
Srinivasan's prediction of the collapse of US fiat banks and the devaluation of the US dollar may also be seen as extreme by some experts. While there is certainly a risk of inflation because of government spending during the pandemic, it is unclear whether the US dollar will experience hyperinflation.
As for Bitcoin, its future remains uncertain. While Srinivasan believes governments around the world will protect it, others have warned that the volatility of the asset makes it a risky investment. As always, investors should do their research before investing in any asset, including Bitcoin.
More News
Crypto Prices Explode – 8 Coins to Buy in New Crypto Bull Run
Bitcoin Price Drops Back To $28,200 -Will Friday Bring Another Push?
Coinbase Gets A Wells Notice From The SEC, As The Exchange CEO Compares The Regulator To A "Soccer Ref" In A Pickleball Game
Wall Street Memes – Next Big Crypto
Early Access Presale Live Now
Established Community of Stocks & Crypto Traders
Featured on BeInCrypto, Bitcoinist, Yahoo Finance
Rated Best Crypto to Buy Now In Meme Coin Sector
Team Behind OpenSea NFT Collection – Wall St Bulls
Tweets Replied to by Elon Musk
Join Our Telegram channel to stay up to date on breaking news coverage