Read
CoinChapter.com
on
Google News
YEREVAN (CoinChapter.com) — Tesla CEO and Twitter boss Elon Musk have sent Dogecoin (DOGE) price pumping again.
The self-dubbed Dogefather attended the Super Bowl on Sunday and Sat next to fellow billionaire, media mogul Rupert Murdoch and his daughter Elisabeth. When asked what the two discussed during the Philadelphia Eagles vs. Kansas City Chiefs game, Musk claimed they were discussing Dogecoin.
The Grift Capital CEO asked the question and was looking for "wrong answers only." It is unclear if Musk was actually talking about DOGE or if he intentionally gave a "wrong answer."
Moreover, Musk also sported a T-Shirt with the Dogecoin logo on it. In addition, 91-year-old Murdoch's girlfriend, Ann-Lesley Smith, joined them as they enjoyed pop star Rihanna's performance, during which the singer announced she was pregnant with baby number two.
Recommended: Dogecoin Price Prediction: DOGE Loses 7% After Elon Shilling
Dogecoin (DOGE) price rallies
As it usually happens when Musk mentions Dogecoin, the price of DOGE went on an immediate rally. It jumped around 6%, going from a daily low of $0.08091 to $0.0862, data from CoinMarketCap shows.
Dogecoin is a popular meme cryptocurrency created by software engineers Billy Markus and Jackson Palmer. As one of the largest altcoins, its price rallied over 180,000% from launch to reach an all-time high (ATH) of $0.7376 on May 8, 2021.
A large chunk of the rally came because of Musk. He first tweeted about Dogecoin on April 2, 2019. Since then, the DOGE price has jumped over 30,000%. Over the years, the SpaceX founder has made extraordinary claims, even going as far as calling the meme token better than Bitcoin (BTC).
Moreover, he has included the token in his business empire, allowing fans to buy Tesla merchandise using Dogecoin.
Elon Musk was trolled for cozying up to Murdoch
After videos and pictures spread showing Musk sitting with the Mudrochs, many came forward to troll him. Some accused him of hypocrisy, others an enabler of fascism and rightwing propaganda.
Popular journalist and TV host Mehdi Hasan pointed out that Musk is just another "rightwing billionaire media mogul."
"One way we can tell Elon Musk is sincerely outraged by inaccuracy in the media is that he's sitting next to Rupert Murdoch at the Super Bowl,"

journalist Jon Schwarz wrote sarcastically.
Musk has challenged the media on several occasions, criticizing them for their "biased," "false," and "misleading" reports. He can be seen regularly Tweeting about them and commenting on posts that he does not like. Last December, Musk even banned journalists he accused of publishing false reports about him.
CNN's Donie O'Sullivan, The New York Times' Ryan Mac, and The Washington Post's Drew Harwell were among those that faced the axe.
The idea that he enjoys the company of the man behind some of the largest media names didn't go unnoticed.
"Elon Musk sitting next to Rupert Murdoch at the Super Bowl. 2 men who are working as hard as possible to destroy American democracy as they pretend to celebrate an American cultural moment,"

Democratic commentator Kaivan Shroff hit out.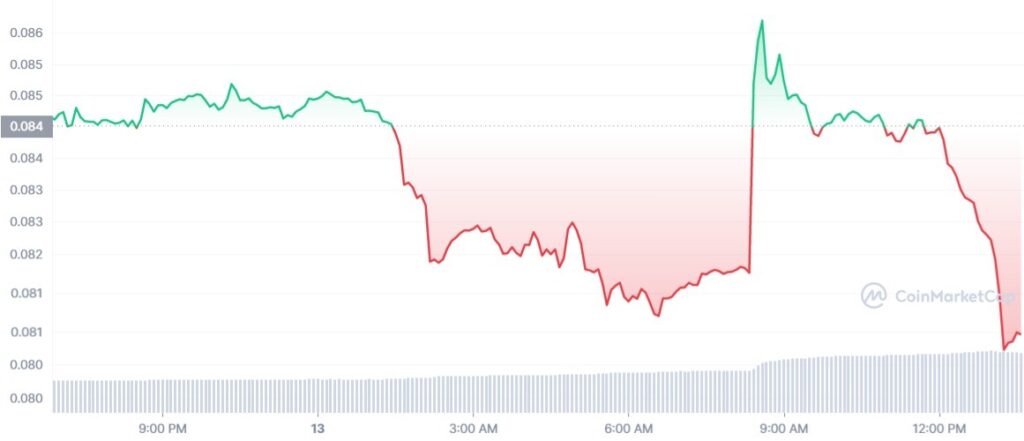 While Musk has temporarily pushed the price, the rally has already lost steam. At the time of press, DOGE had already lost most of the daily gains, falling back to $0.08039.
The post Elon Musk pumps Dogecoin (DOGE) after Super Bowl discussion with Rupert Murdoch appeared first on CoinChapter.