Key Takeaways:
Base, the Layer 2 Ethereum network, faced its first outage.
The network was launched by crypto giant Coinbase less than a month ago.
The developers were quick to identify and solve the issue without losses.
YEREVAN (CoinChapter.com) — Base, the Coinbase-backed Ethereum (ETH) layer2 network, experienced a temporary outage on September 5, resulting in a halt in block production. The network was down for a little over 45 minutes, making it the first major service interruption since it was less than a month ago. 
Coinbase (COIN), the US-based cryptocurrency exchange, launched Base on August 9, less than a month ago. 
The issue was identified by several users, who raised the alarm on social media giant X (formerly Twitter).
According to Matt Willemsen, head of research at crypto investing firm CollectiveShift, the incident highlights the battle-tested nature of Ethereum's mainnet, which, unlike Layer 2, is "more battle-tested and involves fewer trust assumptions."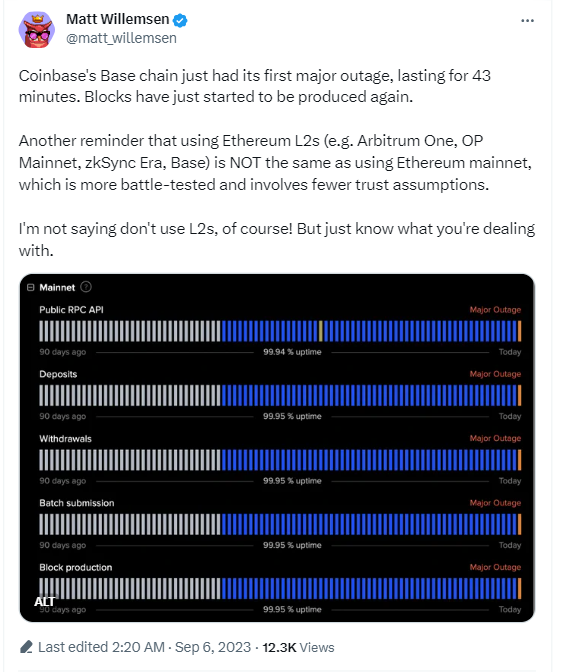 According to Base's status page, the disruption in block production led to difficulties for users trying to submit new transactions on the network. 
However, the team quickly identified the problem and solved it without endangering customer funds.
"Earlier today we had a delay in block production due in part to our internal infrastructure requiring a refresh. The issue has been identified and remediated. No funds are at risk," 

the developers assured on their Twitter handle.
Base Network is still a thumping success
Despite the recent outage and disruption of block production, Base is far from a failure. In less than a month since Coinbase launched the L2 solution, it has experienced quick success. With over $405 million in total value locked while writing, Base Network is currently 8th on the DeFiLlama's TVL charts.
This puts it ahead of well-known blockchain networks like Bitcoin (BTC), Cardano (ADA), and Solana (SOL), among others.
The Base has gained popularity among developers constructing applications and traders of meme coins. DeFiLlama data also reveals that the network has generated over $5.4 million in fees.
Additionally, Base has served as the launch pad for several decentralized social web applications. The Base ecosystem encompasses over 100 decentralized applications (dApps) and service providers. 
More recently, Coca-Cola launched its NFT collection on the network, adding to its fast-growing credibility.