On-chain data shows the Cardano whales have sold more than a billion ADA during the past week, a sign that pain may not be over for the asset yet.
Cardano Whales Have Participated In Some Distribution Recently
Cardano didn't have the best time in August, as the cryptocurrency registered a more than 18% drop. This new month of September hasn't been any better for ADA, as the asset has only continued to struggle sideways around its lows so far.
At present, the asset is trading just under the $0.26 level. The chart below displays the recent price action in the cryptocurrency.
Looks like ADA hasn't moved much since the start of the month | Source: ADAUSD on TradingView
Cardano's flat returns over the past week aren't anything different from what has been happening in the wider sector, as Bitcoin (BTC) and Ethereum (ETH) have also been similarly stale recently.
That said, a bearish signal exclusive to the asset appears to have emerged, as Ali, an analyst on X, has pointed out in a new post. According to on-chain data, the ADA whales have participated in a selloff over the past week.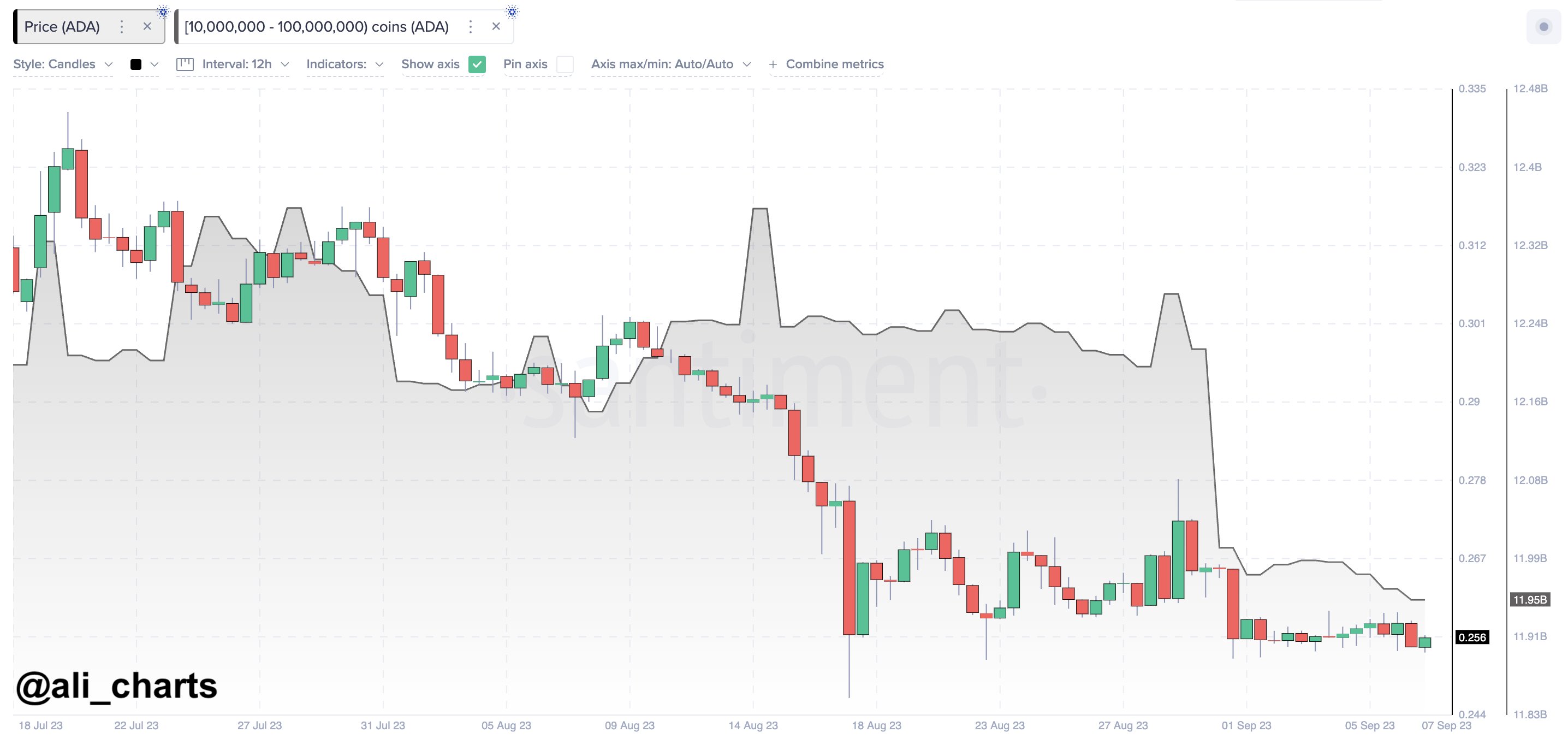 The value of the metric seems to have been heading down in recent days | Source: @ali_charts on X
The above chart shows the trend in the combined supply of the Cardano investors holding at least 10 million and at most 100 million ADA in their wallets. At the current exchange rate, this range converts to about $2.6 million at the lower end and $26 million at the upper bound.
The holders of this vast amount of the token are called "whales." Due to their massive holdings, they are among the most influential entities on the network. The graph shows that these large investors have seen their holdings go down sharply recently.
This ADA holder group has distributed a net amount of 1.02 billion ADA (worth around $260 million) in this latest selloff, which is a pretty significant figure.
The whales shaving off their supply is naturally not a positive sign for the cryptocurrency, as it suggests that some of these humongous holders don't think the asset will recover shortly, so they are cutting their losses and exiting the coin.
ADA Continues To Be 7th Largest Coin In Sector
Despite its decline, Cardano is still the seventh-largest asset in the cryptocurrency sector in terms of market cap, as the table below shows.
The market cap of the asset is around $9 billion at the moment | Source: CoinMarketCap
However, the gap between ADA and the 8th place Dogecoin (DOGE) is down to less than $100 million now, meaning that the asset is at risk of dropping down from its spot.
Unless things change fast for Cardano, it may be inevitable that the cryptocurrency would slip below the memecoin shortly, given the bearish movement from the whales.
Featured image from iStock.com, charts from TradingView.com, Santiment.net