Join Our Telegram channel to stay up to date on breaking news coverage
There has been a bullish shift in the broader crypto market movement, along with the majority of the popular crypto. The bulk of the currencies on the market are currently pushing toward new price levels, leaving investors spoilt for choice and making it difficult to select the best cryptocurrency for investment.
However, to make wise investments, it is important to pay attention to tokens that consistently perform well on a daily basis.
In this article, we've selected some of today's biggest crypto gainers for immediate consideration.
CRB COIN (CRB)
CRB Coin is an open-source cryptocurrency initiative offering a user-friendly, secure, and scalable platform for digital currency transactions. The digital asset is an Ethereum-based protocol, but with certain alterations.
It is an eco-friendly project that promotes the use of renewable energy and opposes climate change and global warming. It aims to have all transactions in the blockchain chain consume zero energy.
At press time, CRB is trading at $0.000021, indicating an uptrend of 1.82% in the last 24 hours.
CRB Coin is an innovative substitute with faster transactions and lower costs than other popular cryptos, and it's a project worth following because the active development team frequently adds new features.
Render Token (RNDR)
RenderToken (RNDR) is a distributed GPU rendering network created on top of the Ethereum blockchain. The project aims to connect creative professionals with mining partners who are prepared to rent out their GPU resources.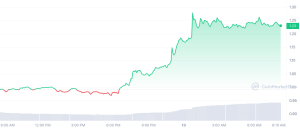 The native token, RNDR, is an ERC-20 utility token. Artists on the network can swap the token for GPU computation capacity from GPU suppliers – node operators.
RNDR uses a manual and automatic proof of work mechanism, or in this case – proof of render – to ensure that all art has been correctly rendered prior to payment disbursal and art release.
All RNDR payments are held in escrow during rendering and given to node operators after being manually approved as successful by the commissioning artist.
At the time of writing, RNDR is trading at $1.23. The crypto asset has seen a price surge of 24.68% in the last day.
Regarding the technical analysis, RNDR is currently on a bullish streak. The crypto asset sits above its 50-day simple moving average (SMA) for short-term prediction. However, it will need a sustained rally to catch up to its 200-day SMA for the long-term prediction.
The relative strength index (RSI) value of 44.14 puts the digital asset in the underbought zone. On the other hand, the RNDR moving average convergence and divergence (MACD) value displays a sell signal.
Beeple, a top NFT creator who is also an advisor to the Render network, recently opened a physical studio.
Today is the day!! The official opening of @Beeple Studios!

Share opening day pics! #RNDR #Octane #RenderNetwork https://t.co/DpusvkqGQz

— Render Network | RNDR (@RenderToken) March 11, 2023
To launch this new venture into the physical world, Christie's auction house and Beeple have teamed up to host a grand opening ceremony. Also, Beeple is leveraging the event to highlight additional creatives working in the NFT industry.
Love Hate Inu (LHINU)
Love Hate Inu is a brand-new platform for meme tokens that rewards users for sharing their opinions on hot topics. Users can receive recurring income by voting on contentious subjects utilizing the innovative vote-to-earn (V2E) system.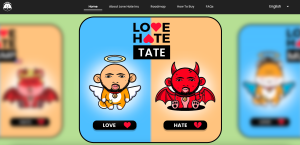 The platform, however, is more than just a meme icon. Its main objective is to provide a forum for people to debate and vote on the most crucial subjects.
Users will have the opportunity to voice their thoughts on a variety of subjects, such as politics, entertainment, and social issues, and they will join a community that respects those opinions.
The implementation of blockchain technology during the voting process ensures that voting procedures are fair, transparent, and secure.
Good morning #LoveHateInu

Become a part of the #LoveHateInu community today and see what everyone will be voting for! #Presale is live!

https://t.co/Pu2Bo8XmK6#cryptocommunity #altcoins #memecoins pic.twitter.com/Bp5sWf1qJr

— Love Hate Inu (@LoveHateInu) March 13, 2023
Many uses for this brand-new cryptocurrency exist for both consumers and companies. Companies may, for instance, survey the community on Love Hate Inu to learn how they feel about a new product introduction.
Players must stake their tokens in order to vote. To prevent vote fraud and spam, the platform's live staking mechanism requires users to stake tokens for at least 30 days before voting.
Love Hate Inu also rides on popular meme coins, including Dogecoin, Floki, Tamadoge, and Shiba Inu. Its native token, $LHINU, represents an innovative concept that will go viral on social media, making the presale the most sought-after of the year.
The LHINU token presale is transparent, and there's no fear of a rug pull since 90 percent of the 100 billion released tokens are available to everyone.
The remaining 10% will be used for various projects, including listing costs, community prizes, and liquidity. Its transparency makes a rug pull impossible.
At press time, the presale had raised over $385,000. Interested investors can quickly sign up and benefit from the $0.000085 soft launch stage 1 pricing as the presale is divided into eight phases.
The price will, however, increase to $0.00009 when the presale reaches its second round.
By the end of the presale, the price will have climbed to $0.000145. Therefore, investors who buy in now can anticipate a gain of over 70%.
Fight Out (FGHT)
As the concept of "Move-to-Earn" gains traction, Fight Out promotes its position as one of the key players to best apply this novel new approach to exercise.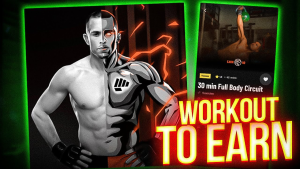 The Web3 platform provides much more than step monitoring, and users can track their progress toward fitness goals and stay motivated by receiving rewards for completing tasks.
The project's main goal is to create a healthy and active lifestyle for society. Aside from that, users can win prizes by playing and betting on fantasy games such as MMA.
Attention #FightOutCrew!

Fight Out's presale price is going up every 7 days until it ends.

Don't wait too long to secure your spot and lock in the current price!
https://t.co/9pikKGRjSd#Presale #Crypto #ICO pic.twitter.com/RLAWHOdeao

— Fight Out (@FightOut_) March 12, 2023
To participate, each player will create a digital Soulbound avatar using a non-fungible token (NFT). This avatar will reflect this person's physical characteristics as well as technological advancements. Their participation will also be displayed on challenge leaderboards.
Fight Out ecosystem employs two utility tokens – REPS and FGHT. The platform's incentives will be distributed using REPS, its off-chain token, while FGHT, the platform's primary token, will enable all on-chain transactions, governance, and functionality.
At press time, $FGHT sells for $0.028 per token. The price will increase every week until the presale ends on March 31.
So far, the project has raised over $5.44 million in its ongoing presale. The token will also be listed on centralized exchanges on April 5.
C+Charge (CCHG)
The eco-friendly project C+Charge believes using electric energy to power transportation is a responsible environmental choice. As a result, it strives to offer a better electric vehicle (EV) charging experience in order to promote and aid the shift to sustainable electric mobility.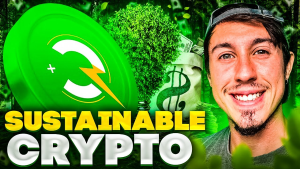 C+Charge is looking to create a rewarding, reliable, and sustainable charging ecosystem and develop solutions that will support and encourage everyone's mobility.
The project will use green electricity while providing drivers and token holders with benefits previously only available to large corporations. This process will be straightforward and beneficial by reducing existing impediments to growth for the EV community and token holders.
Northern-Ireland based broadband provider @FibrusFullFibre has announced their new investment in EV infrastructure with the aim to go fully electric in the next 3 years

Join our #presale today and support the growth of #crypto in the EV industryhttps://t.co/ixe18bPYpg

— C+Charge (@C_Charge_Token) March 12, 2023
C+Charge presents itself as a genuine Web 3 technology user. Instead of using the standard ledger-backed network design for payments when charging EVs, it suggests an electronic wallet-based payment architecture.
The primary selling point of C+Charge is its smartphone app. It is a centralized platform that manages several end-to-end charging-related tasks and accommodates EV consumers' charging requirements.
The app will manage the complete end-to-end charging process in addition to monitoring payments. This offers the latest price, a revised wait time estimate, a carbon credit tracker, and a charging station finder.
Thanks to the blockchain-based network and app, EV drivers will profit from transparent pricing, which removes unexpected fees, hidden costs, and pricing uncertainty.
$CCHG is the token that powers the green initiative. At the time of writing, $CCHG sells for $0.019 and has raised more than $2.77 million in its sixth presale stage.
Metropoly (METRO)
Metropoly is the first decentralized non-fungible token (NFT) real estate marketplace backed by real-world properties. Through the marketplace, users can invest in real estate properties worldwide for as little as $100.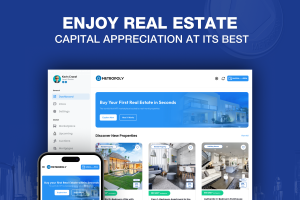 Investors can use the platform to quickly buy and trade NFTs representing fractional ownership in income-generating assets. Besides that, property owners can access NFTs that act as a substitute for real estate assets and generate passive income.
The project believes everyone should be able to invest in real estate, no matter where they live or their credit history.
Building your real estate empire is as easy as it gets with Metropoly.

Buy properties in seconds, earn rental income and sell whenever you want.

Join the presale now and avail your bonus!

https://t.co/tpOwICvgol#metropoly #realestate #Web3 #cryptoevent pic.twitter.com/wyZo25F05b

— METROPOLY – PRE-SALE IS LIVE! (@metropoly_io) March 11, 2023
An NFT holder is entitled to all of the benefits of real estate investment. NFT holders, for example, can easily profit from any capital appreciation by selling their NFTs on the Metropoly marketplace.
Furthermore, they are entitled to a portion of the passive income generated by the monthly rental yield, which is distributed in USDC.
METRO is an Ethereum-based crypto token that runs the Metropoly ecosystem. The token is used to pay for listed properties and also for incentives.
At the time of writing, the price of $METRO is $0.0625 per token. The real estate initiative has raised more than $813,000 in its ongoing presale, with almost 2,000 participating investors.
RobotEra (TARO)
$TARO is an Ethereum-based token that powers the whole RobotEra metaverse, from development to the in-game currency, NFTs, P2E gameplay, and in-game store.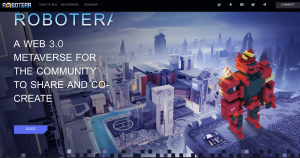 The theme of RobotEra is the rebuilding of a planet called Taro, which was destroyed due to conflict between the robots and the aboriginals of the planet.
In the engaging metaverse game, players take on the role of robots and explore the world while creating, acquiring assets, and contributing to a thriving economy.
Every robot encountered by players while participating is a non-fungible token (NFT) that they can buy, sell, or exchange. These NFTs could be modified and utilized as robotic companions.
Who's excited about owning their very own one-of-a-kind digital robot persona in the #RobotEra universe!

Discover all the other amazing features our digital realm has in store for you!

Don't miss out on this opportunity!https://t.co/nBnvUcnbzU#Play2Earn

— RobotEra (@robotera_io) March 12, 2023
RobotEra will provide players with access to a solid multi-dimensional metaverse platform. As a result, the concept is more than just a fun game; it also serves as a parallel reality in which digital money and other assets can be used as rewards.
At press time, $TARO is selling for $0.020 per token. So far, the project has gained momentum, raising over ​$1 million in its ongoing presale.
When the first presale stage concludes, the token value will increase to $0.025 for the second presale stage.
Conclusion
The world is looking towards sustainable environmental practices, and the crypto space is not left behind.
With more top crypto projects like Ethereum transitioning to protocols that are energy efficient, CRB crypto is also aiming to carve out a niche and help blockchains reduce their energy consumption.
Related News
Biggest Crypto Gainers Today, March 12- SHIB, STX, LHINU, FGHT, CCHG, METRO, TARO
Biggest Crypto Gainers Today, March 7- MANA, GMX, FGHT, CCHG, METRO, TARO
Biggest Crypto Gainers Today – March 4
Love Hate Inu – Newest Meme Coin
Decentralized Polling – Vote to Earn
Early Access Presale Live Now
Ethereum Chain
Featured in Yahoo Finance
Mint Memes of Survey Results as NFTs
Staking Rewards
Viral Potential, Growing Community
Join Our Telegram channel to stay up to date on breaking news coverage