Key Takeaways:
Bitcoin-based Ordinals explode in market cap.
BRC-20 tokens take over the meme-coin attention.
"They are worthless," says the BRC-20 creator.
Read
CoinChapter.com
on
Google News
YEREVAN (CoinChapter.com) – BRC-20 tokens are an experimental token standard on the Bitcoin blockchain that uses the Bitcoin Ordinals Protocol. As of May 3, the number of transactions using the BRC-20 tokens exploded to nearly 2.4 million, as per Dune.com, peaking on May 1 at over 366,000.
Additionally, the total fees paid approached 110 BTC.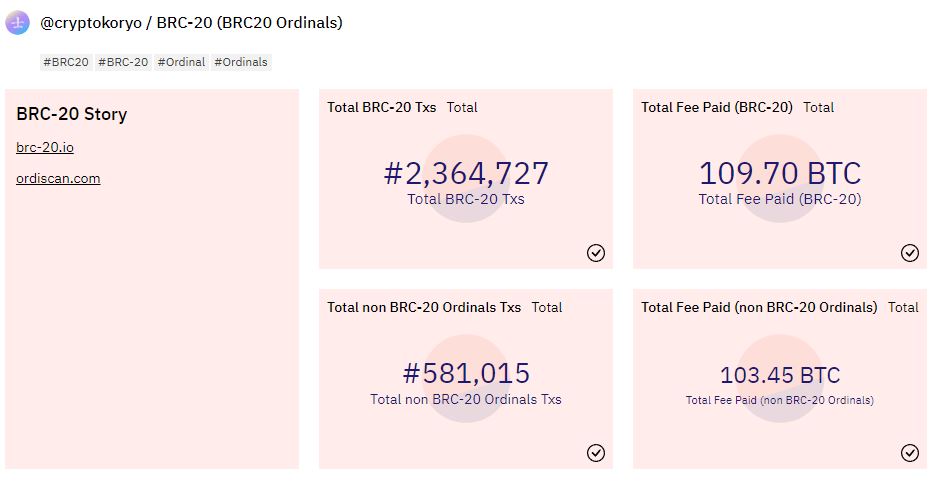 Also read: Bitcoin Miners Unload Reserves Despite BTC's 75% Rally in 2023.
BRC-20 tokens gain popularity
Originally, Bitcoin Ordinals, i.e., NFT-like inscriptions on the blockchain, first came about in Jan 2023 and quickly gained an audience.
The inscriptions triggered a lot of controversy around them. One camp condemned the idea of "mismanaging" the Bitcoin blockchain, while the other hailed Ordinals as a way of sidestepping the security budget problem.
Then BRC-20 tokens came along in early March. Their developer @domodata commented that "anyone can deploy, mint, or transfer" BRC-20s using ordinal inscriptions.
Despite the initial dispute, there are over 8.500 BRC-20 tokens as of May 3, most of them meme coins. Moreover, the BRC-20 tokens have gained over $120 million in market cap since early March and over 600% growth in the previous two weeks.
Also read: Vladimir Putin faces arrest if he travels to South Africa for BRICS summit.
The appeal of meme coins did not bypass Bitcoin proponents
The creator of BRC-20s warned they would be worthless.
This is just a fun experimental standard demonstrating that you can create off-chain balance states with inscriptions. It by no means should be considered THE standard for fungibility on Bitcoin with ordinals, as I believe there are almost certainly better design choices and optimization improvements to be made.

commented @domodata at the time.
However, one of the BRC-20 tokens, Ordi, reached $4 per unit, providing astronomical returns to early minters and solidifying its status as part of the meme coin culture.
Generally, the appeal of meme coins stems from the promise of high returns with no visible effort.
Also read: US Debt Ceiling Crisis update: Joe Biden to Meet House Speaker Kevin McCarthy to prevent default by June.
In other words, they are, to quote Domo, worthless, but if caught early, they have the tendency to explode big. That said, only a minuscule percentage of meme coins reach the level of PEPE success, making the rest a money-losing black hole.
According to crypto analyst CryptoKoryo, the BRC-20's novelty partially lies in its "perceived security" on the Bitcoin blockchain.
Communities form around tokens with shared incentives, and everyone has a fair shot at minting. Despite technical flaws and the meme-centric nature of it, growth continues, for now.

asserted the analyst.
The post Are BRC-20 tokens the new meme coins? A 600% explosion in market cap shows so appeared first on CoinChapter.