Join Our Telegram channel to stay up to date on breaking news coverage
The Terra blockchain was once highly regarded in the crypto space, offering algorithmic stablecoins, a strong DeFi ecosystem, and the Anchor Protocol for yield generation.
However, in early 2022, the Terra blockchain collapsed, resulting in two separate entities: Terra Classic and the current Terra 2.0 blockchain.
The current blockchain, now known as LUNA, has not achieved significant success but has mirrored the overall market movements.
However, despite the recent global financial crisis, the broader crypto market has remained resilient, having gained 2.04% in the last day, and LUNA is currently benefiting from the bullish wave.
Amid the asset's bullish sentiment and recent collaborations, analysts consider Terra an exceptionally intriguing digital currency that could hit the $100 mark from its current price of $0.87 soon.
However, investors searching for an alternative investment option can consider exploring Wall Street Memes ($WSM), a promising project in its early stages that offers value-driven opportunities.
LUNA Taps Into Crypto Market Bullish Rally
At press time, the Terra LUNA asset is trading at $0.87, following a surge of 1.45% in the last 24 hours, with a trading volume of $21 million in the same period.
Despite the uptrend, the asset has recently struggled with a 3.36% downtrend in the last week and a slump of 32.98% in the past month.
The year-to-date (YTD) performance is also negative, with a drop of 30.75% so far.
The asset is still reeling from the recent slumps, as its technical charts display a bearish form.
$LUNA's current price sits below its simple moving average (SMA) indicators, ranging from the 50-day SMA of $1.30 for the short term and the 200-day SMA of $9.8 for the long term.
However, investors should expect price fluctuations between its current price and its short-term value depending on market movements.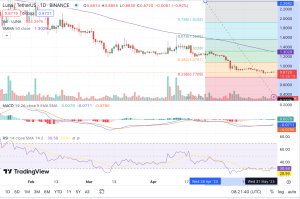 Based on the technical analysis, $LUNA is currently stalling its fall toward the 23.6% Fibonacci retracement value of $0.77, which could also serve as support for the asset.
However, a continuous market rally and bullish momentum could see the asset retrace and head toward the 38.2% Fibonacci retracement level at $1.07.
A breakout beyond this and a steady bullish movement could pave the way for the asset to push toward the $100 mark in the future.
The relative strength index (RSI) metric of 30.58 signifies that $LUNA is currently underbought, while the moving average convergence divergence (MACD) reflects a weak buy signal.
LUNA's Carbon Integrates With Alliance Module
Carbon has joined forces with the TerraForm Labs (TFL) Alliance module to enhance its collaborative efforts and establish alliances within Cosmos and the broader cryptocurrency ecosystem.
Carbon is an open protocol aiming to facilitate all kinds of financial transactions with minimal expenses and swift execution, eliminating the necessity for trusted intermediaries.
SWTH serves as the protocol's native cryptocurrency and governance token.
Through the Alliance module, networks can create economic alliances by allowing their assets to be staked with another network in exchange for staking rewards.
In the case of Carbon, being a real yield chain, forming an alliance with Alliance enables individuals to earn real yield rewards and transform their assets into real yield assets.
? ? ? https://t.co/16jPlYnA5B

— Terra ? Powered by LUNA ? (@terra_money) May 26, 2023 
To initiate this process, Carbon can establish a one-way alliance with any network, such as Terra, by listing its governance token, $LUNA, as an alliance asset.
Consequently, all $LUNA holders can stake the token with Carbon and earn staking rewards, including SWTH tokens and trading fees (also known as real yield).
Initially, Carbon aims to maintain a staking annual percentage (APR) of no less than 20% for $LUNA liquid staking derivatives (LSDs).
When combined with $LUNA staking rewards, the overall staking APR would be approximately 35%.
Explore New Meme Sensation "Wall Street Memes" As Alternative Investment
Terra Luna stands out as a sought-after cryptocurrency that investors might consider including in their portfolios.
Nonetheless, there are other crypto assets with high intrinsic value and the potential for significant returns.
Our focus, the $WSM token, is a cryptocurrency associated with the meme stocks movement kicked off by the Wall Street Bets Reddit forum, representing a win for online movements against unregulated capitalism.
This movement originated from the GameStop saga of two years ago, during which retail investors countered Wall Street investors by purchasing stocks of struggling companies.
While it lacks practical use, it has gained support from a large community.
In 2021, this community played a crucial role in the quick sell-out of the Wall Street Bulls NFT collection.
Recently, they launched the Wall Street Bull Ordinals, a limited edition 420 NFT collection expected to sell out within weeks.
Wall St Bulls Ordinals are ready to mint on @MEonBTC in less than 24 hours! Only 420 pieces, on the 690k inscription block.

Don't miss out on this epic opportunity to own a piece of history!

05/26/2023, 4:20 PM EST pic.twitter.com/M7mACUAEqG

— Wall St Bulls (@wallstbullsNFT) May 25, 2023 
Furthermore, Elon Musk has expressed interest in this meme coin.
With its appeal to stock and crypto enthusiasts, buying the $WSM token at its current low price of $0.025 seems like a time-sensitive opportunity.
Introducing $WSM – yep, we've gone and done it.
The community token that's flipping the Wall Street Memes game upside down! ?

We have 50% of the #Token supply up for grabs in the #Presale and 30% set aside for rewarding our community.?

Let's make some serious waves together,… pic.twitter.com/fH2TMGmglZ

— Wall Street Memes (@wallstmemes) May 27, 2023 
The token launch generated significant demand, raising over $902,000 in a few days, increasing the chances of listing on reputable exchanges.
Buy $WSM Now
Related News
Wall Street Memes – Next Big Crypto
Early Access Presale Live Now
Established Community of Stocks & Crypto Traders
Featured on BeInCrypto, Bitcoinist, Yahoo Finance
Rated Best Crypto to Buy Now In Meme Coin Sector
Team Behind OpenSea NFT Collection – Wall St Bulls
Tweets Replied to by Elon Musk
Join Our Telegram channel to stay up to date on breaking news coverage