Read
CoinChapter.com
on
Google News
YEREVAN (CoinChapter.com) – Fetch AI's FET token price surged 20% to $0.50 on Feb 21. But will the price rally continue or falter? Let's dwell.
FET Price Risks Bearish Reversal
Notably, the FET price rally halted at a key resistance of $0.45-0.47, which hindered the token's upside attempts since Apr 2022. It is not yet clear whether the token can conquer the resistance with any confidence in the coming sessions. Especially considering several bearish warnings.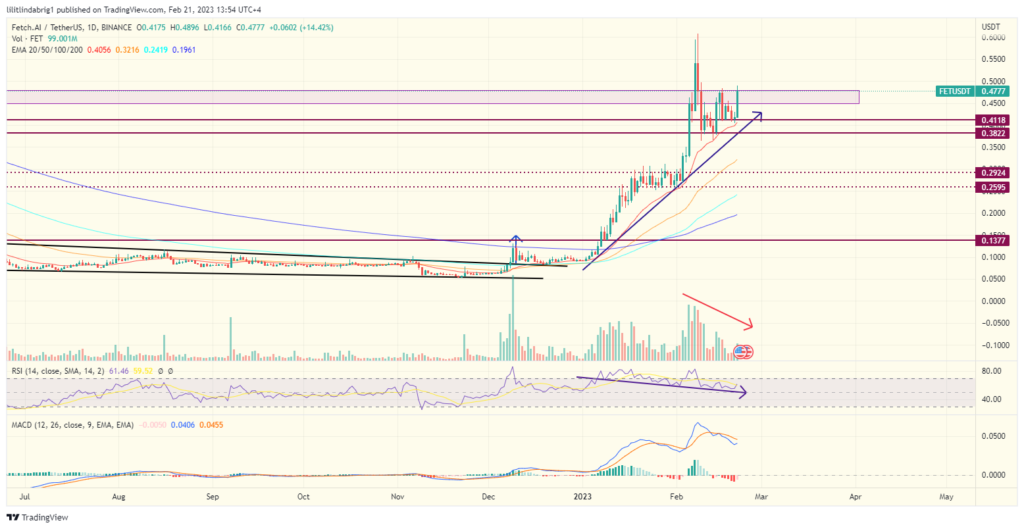 For one, the relative strength index (RSI; purple graph at the bottom) insisted on lower lows year-to-date, despite the price action printing higher lows. Such divergence from the price action hints at a possible decline ahead.
Short-term targets for FET/USD
Additionally, the trading volumes have been declining since Feb 5. In detail, dropping trading volumes generally testify to the traders' growing unwillingness to bet on a price appreciation. They prefer to secure their gains and withdraw from the market, possibly expecting a bias reversal.
Also read: Fetch AI Crypto News: FET Price at 10-Month High — Reversal Ahead?
Should the FET coin price correct downward, the target supports could stand at $0.45, $0.41, and $0.38. However, the key level for determining FET's future bias is $0.48. If the Fetch AI token closes Feb 21 above the said level, it could have additional fuel left for another leg up. If not, the mentioned support levels are most likely to provide assistance.
Meanwhile, the reason behind the rally is noteworthy.
Fetch AI Foundation
Fetch AI token jumped on the news of Fetch AI starting a new Foundation aimed at assisting other industrial partners in building AI applications.
We are thrilled to announce that Fetch AI, in collaboration with our partner BoschGlobal, is forming a new Fetch AI Foundation to boost the development of industrial applications based on AI and Web3 technologies!

announced the Fetch AI team in a tweet on Feb 21.
Fetch further commented that the foundation will help industrial partners "build next-generation AI applications spanning real-world use cases across sectors." The Foundation will also foster technology pooling and "anchor appropriate guiding principles."
Also read: Bitcoin Losing Love? BTC Sees Weekly Outflows Reach Nearly $25M
The Foundation will have a three-tier governance structure as outlined in the Foundation's articles and by-laws. The Foundation's design is inspired by the Linux Foundation, which has shown how decentralized innovation can be achieved at scale while embracing open-source technologies.

Further read the blog post.
Click here to keep up with the ever-changing crypto market and never miss the scoop!
The post A Crash Awaits Fetch.AI's FET Token After Its 20% Pump appeared first on CoinChapter.